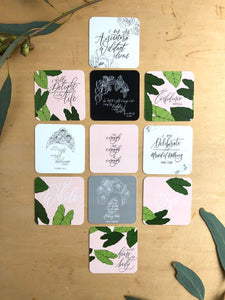 Words are so powerful. They have the ability to encourage or tear down. If you have ever struggled to silence the mean inner critic, these words are for you.
This booster pack can be used alone or as a companion to the Lots of Love Affirmation Deck. You can use them as daily affirmations, pull out a few to align with the moon cycle or leave them in areas around your community to spread the love. However you choose to use these cards, I hope they remind you that your presence is needed in this universe.
Details:
Cards are one sided 2.5" x 2.5" semi gloss squares with rounded corners.
11 cards (with quotes & affirmations) are inside a protective sleeve.
All botanical elements and lettering are original designs hand drawn by The House of Roushey.